NEW YORK - Ever since they discovered that the streets were paved with gold and branched out from cross-country's hills and dales, Kenya's distance runners have piled up enough marathon medals and records to start their own macadam museum. One thing their men haven't done yet, though, is win all six major races in the same season.
That chance comes this morning at the 42d New York City Marathon, where unrelated speed racers Geoffrey and Emmanuel Mutai will be looking not only to finish what they started last spring but also to bring down Tesfaye Jifar's course record (2 hours, 7 minutes, 43 seconds) that has stood since 2001.
That's a lifetime in an event in which the world record has fallen three times in four years, most recently in September in Berlin, where Patrick Makau ran 2:03:38.
read more at source:
http://www.bostonglobe.com/sports/2011/11/06/kenyans-hoping-make-history-new-york/FMUVUuKyw90z3mhNIwtUUM/story.html
Mutai win NYC Marathon
Kenyan Geoffrey Mutai won the men's New York City marathon Sunday, setting a new course record with a finish time of two hours, five minutes and six seconds. It was the first time the 30-year-old has won the NYC marathon. The last Kenyan runner to win the marathon was Martin Lel in 2007.
read on at source:
http://msn.foxsports.com/other/story/Kenyan-Geoffrey-Mutai-Ethiopian-Firehiwot-Dado-win-2011-nyc-marathon-110611?ocid=ansfox11
Kenya's Geoffrey Mutai sets NY Marathon record
Kenya's Geoffrey Mutai smashed the New York Marathon men's record on Sunday while Ethiopian Firehiwot Dado surprised herself with a late charge to capture the women's title in her New York debut. In ideal conditions, Mutai surged from a pack to the lead with seven miles remaining and won in two hours, five minutes and six seconds, shattering the old course record of 2:07:43 set by Ethiopia's Tesfaye Jifar in 2001.
"I tried at the last minute to push it a little more," Mutai said. "We all worked together and then it was time to push. I was trying to run my own race."
read on at source:
http://www.nation.co.ke/sports/athletics/Kenyas+Geoffrey+Mutai+sets+NY+Marathon+record/-/1100/1268358/-/pckhfs/-/index.html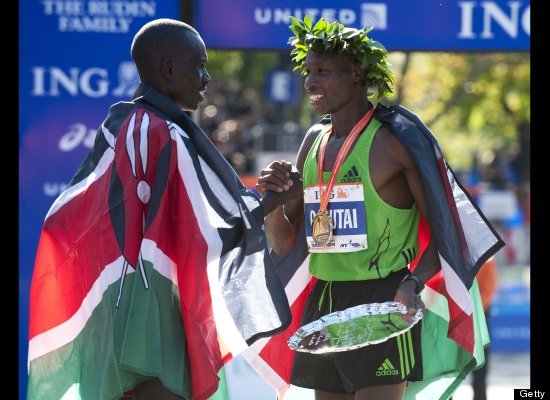 Diaspora celebrate Kenya NY Marathon win
On a near perfect, windless day that seemed made for African marathon runners, Geoffrey Mutai of Kenya flew over five New York bridges, breaking away from the so called elite team in the final six miles to shatter a decade-old course record by more than two and a half minutes.
And, in the process, he set off celebrations among Kenyans living in the US that went on late into the night. "It's a great day for Kenya. Our runners have made us proud and it's in order for Kenyans wherever they are to celebrate this win," said Dr Josephine Ojiambo, Kenyan Ambassador to the UN after receiving the runners at the end of the race.
With song and dance, and tusker lager as one Kenyan living in the Bronx told The Standard on phone, Sunday afternoon and many hours later in the US belonged to Kenyans as one of the biggest story on both local and national television and radio was the spectacular win by the Kenyan trio of Geoffrey Mutai, Emmanuel Mutai and Mary Keitany in the New York Marathon held Sunday.
read more at source:
http://www.standardmedia.co.ke/InsidePage.php?id=2000046307&cid=4&ttl=Diaspora%20celebrate%20Kenya%20NY%20Marathon%20win